Xbox Indie Game Round Up – Episode 115
This weeks Xbox Indie Game Round Up includes Shape Shop, Esoterica America and Sudo-Quick.
The article is several games short this week as the XBLIG Xbox.com Marketplace has not been updated since Friday. I found out this morning that the games are available to download via the Dashboard but I already finished this article and video. So to make things easier I will include the missing releases in next weeks edition.
Up next are this weeks releases sorted in a rough order on how good they are over three categories. Trial impressions have been wrote for the Geddon it! category games, the rest use the developers descriptions, though take a look at all the games as something may interest you.
Geddon It!
Shape Shop – 80 :MSPoints: – Marketplace
Shape Shop is a pentomino style game where you must fill in large shapes with smaller pieces of shapes. The game is set in a factory and you must build various shapes such as rockets, skulls and camels, supposedly to earn your union card. Presentation is done very well, graphics are cleanly drawn and it uses an easy to use UI to manipulate the shapes. I am not sure how many levels there are but at 80 :MSPoints: it seems to be a bargain. Well worth checking out!
Esoterica America – 240 :MSPoints: – Marketplace – Trailer
Esoterica America is a mystery adventure game. It was hard to get a real feel for the game in the 8 minutes trial but it looks to be a game that could be worth sticking with. You play as a young man who is the son of a venerable Illuminati that goes on a search to uncover the truth behind his father's disappearance. The game is presented in an isometric world in a kind of point and click style game with scenery and objects to examine. The graphics are interesting with a mix of greyscale graphics for locations that turn into colourful alternative worlds with animated cutscenes. Like I said it could be an interesting game so give it a go.
Sudo-Quick – 80 :MSPoints: – Marketplace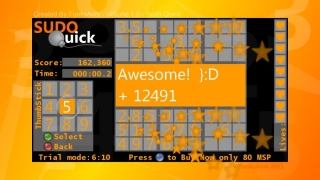 Sudoku games have been done a million times but Sudo-Quick introduces a nice twist to the puzzle game with a faster way to play. Instead of methodically working your way through the puzzle, Sudo-Quick forces you to work out a specific square at a time. The correct number can be worked out, so instead of filling in random squares until you find a pattern you simply follow the prompted squares. The result is a much faster paced version of Sudoku which is a lot of fun to play. The graphics are a little basic but as it is a pen and paper style game they can be forgiven. Everything else works great so if you are a Sudoku fan or like fast paced puzzle games you should check this game out!
Armehgeddon
The following descriptions are the developers descriptions for the games.
Avatars Don't Bleed – 80 :MSPoints: – Marketplace
Use your avatar to beat 30 levels of extreme platforming with double jumps, spinning saws, spikes, sliding and canons.
Astro Cluster – 80 :MSPoints: – Marketplace – Trailer
Dominate the galaxy in this unusual multiplayer twin-stick shooter. Destroy your enemies, take their clusters and navigate cosmic dangers across a wide variety of levels and game modes. Improve your skills in the co-op campaign then take the fight online to prove who is the Cluster Master!

Monsters In Neon Space – 80 :MSPoints: – Marketplace – Trailer
In this space shooter you will destroy hordes of space monsters using your choice of three different upgradable guns and bombs along with other upgradable abilities. These abilities will give you the edge to survive through the monsters' space and their planet. If you think you're up for it play through the game on hard difficulty using the powerful but dangerous gravity bomb.

Avatar Superstar – 80 :MSPoints: – Marketplace
Be the star of the show, with your own music, in Avatar Superstar! Use your Microphone or Kinect to sing to your favorite songs, and see how you measure up to your favorite artists. Sound like a real pro with "SuperTune" automatic tuning technology. Are you the next Avatar Superstar?

Sumo Squash! – 80 :MSPoints: – Marketplace
Local multi-player party game featuring 2-4 Sumo's attempting to sit on each others heads! Features free for all, team play and tag based game modes across 16 arenas taking alternative Sumo wrestling to a whole new level.
Armageddon outta here!
The following descriptions are the developers descriptions for the games.
Avatar Fantasy RPG – 80 :MSPoints: – Marketplace
Fight with monsters, cast powerful spells, loot magic items and save the innocent. Do it all playing as your Xbox LIVE Avatar! There's also special difficulty for hardcore gamers. All that for only 80 MSP!

Super Sequence 3 – 80 :MSPoints: – Marketplace
Now you can play all the modes from Super Sequence 1 & 2 to play an amazing assortment of challenging levels. Combine your favorites modes to create over 450 ways to play! Now including songbird and farm animal themes.

Why Did I Buy This? – 80 :MSPoints: – Marketplace – Trailer
It's you versus the telemarketer. The only way to win is to lose.
Updated Titles
Titles that have received a software update or price change are Satellite, Music Box, Endless Midnight: Zombie Swarm and Prank Call.