Xbox Indie Game Round Up – Episode 116
This weeks Xbox Indie Game Round Up includes the RTS game Tacticolor, puzzle game Brain Jump 2 and action game Bunker Buster.
First up is our compilation video showing gameplay from all of the weeks releases. Please take a look and don't forget to subscribe to our Youtube channel at http://www.youtube.com/user/TheGamergeddon.
Up next are this weeks releases sorted in a rough order on how good they are over three categories. Trial impressions have been wrote for the Geddon it! category games, the rest use the developers descriptions, though take a look at all the games as something may interest you.
Geddon It!
Tacticolor – 80 :MSPoints: – Marketplace – Trailer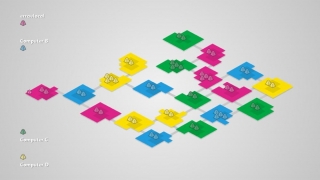 Tacticolor is a real time strategy game which reminds me of Risk. The aim of the game is to destroy your opponents by capturing all the world. Each players starts with a zone and must build up armies to capture other zones, new armies are automatically generated and are used to strengthen the attack and/or defense. As the game plays in real time, with up to 4 players local and online, it turns the fun factor up to 11 because you are constantly thinking what to do when attacking or defending and capturing or re-capturing zones. The graphics and sounds are minimal, but I think the design works well, no clutter to get distracted with. If you enjoy strategy games then this is perfect, though everyone should give the game a go!
Brain Jump 2 – 80 :MSPoints: – Marketplace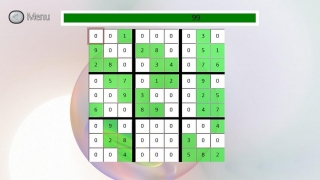 The original Brain Jump came out a month or two ago and was a nice mix of maths, words and puzzle based exercises which I enjoyed a lot. Brain Jump 2 is more of the same, though this time featuring Soduku, anagrams, memory games, odd one out and loads more. The graphics are not amazing but they suit the style of the game. Give it a try, especially the odd one out exercises.
Bunker Buster – 80 :MSPoints: – Marketplace – Trailer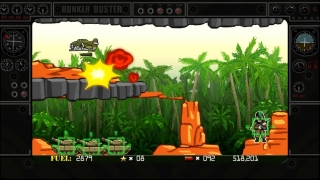 Bunker Buster is something for the action fan if the above two games are not your thing. You control aircraft and must drop bombs or missiles to blow up bunkers. It is a mix of genres and you will be able to pick up and play straight away thanks to the simple two button controls; one to control your height and one to drop bombs. The game is presented very well with nicely designed menus, the in-game graphics are also done well in a cartoon style. There are 32 levels to blast your way through so it should keep you occupied for a while. There are also rewards for good things and flopwards for bad, to collect. Definitely one to try!
Armehgeddon
The following descriptions are the developers descriptions for the games.

QuadSmash – 400 :MSPoints: – Marketplace – Trailer
QuadSmash is a frantic couch-multiplayer arcade game. Fight to death with your high-speed vehicle against your friends in various arenas. Multiple game modes including smashball (a sort of football match if football was played on a motorcycle!) and deathmatch (classic FFA or team based). And there's even a single-player campaign for you lonely riders. How great is that?

Dr Li's Extreme Beam Machine – 80 :MSPoints: – Marketplace
A simple puzzle game where the objective is connect four same colored balls together and make them explode! Earn points and drop uncolored gray balls on your opponents! Includes single player and 2-player local multiplayer.

Insanity X – 80 :MSPoints: – Marketplace
You are a rebel warrior imprisoned in The Evil Robot Master's domain. In order to escape, you must traverse room after room of the electrified wall maze while destroying his robotic minions. A throwback to classic arcade games, this game will test your reflexes, your skill, and most of all, your sanity! Are you insane enough to survive?

Ricochet Assassin Lost Levels – 80 :MSPoints: – Marketplace
Ricochet Assassin Lost Levels is a Bowman Hybrid. You are an Assassin armed with a Bow and Explosive tipped arrows. Bouncing your arrows off of walls using the correct trajectory will turn your target into a flurry of smoke, fire and gore! Test your skill in 30 levels of mind bending ricochets and challenge a friend through 10 competitive two player levels.

Shooting Gallery – 80 :MSPoints: – Marketplace
Shooting gallery with 4 players. Play with or against each other and win coins to purchase upgrades.

Egyptian Rat Smash – 80 :MSPoints: – Marketplace – Trailer
This is a card based reflex game. The goal of the game is to collect all of the cards! Win the pile with face cards or by being the first to press the button when a pair is on the pile!

9 Ball Pool Champion – 80 :MSPoints: – Marketplace – Trailer
Classic 9 Ball pool, with 4 player party mode, and cooperative play against the computer. Featuring multi rebound Cheat-O-Laser for insane trickshots!
Armageddon outta here!
The following descriptions are the developers descriptions for the games.

Arc Lancer – 80 :MSPoints: – Marketplace – Trailer
The galaxy is shrinking. Exploration remains as the current mode of man…but some parts of this great black void are better left unchecked… Lancer Corp. Arc Division is tasked with deep space exploration, an admirable notion, but from the depths of the abyss, a new enemy emerges…one that could doom all humanity.

Avatar Word Wave – 80 :MSPoints: – Marketplace
Get ready for family fun! Develop both sides of your brain, combining action skating and real time word spelling. Challenge friends and family and see who can earn all the awards and rack up the best career statistics. Each game you play earns ribbons and experience points. Experience will level up your Avatar and bring on a more challenging AI and faster reaction times to your commands.

Crazy Hobo – 80 :MSPoints: – Marketplace – Trailer
3D Survival – They say I's crazy, but this shotgun ain't crazy! There's demons everywhere, and I know what to do to demons. Point my boom stick at em and exorcise their face off! — Kill waves of demons using a variety of weapons and abilities in this 3D overhead action game.

Horned Toad Hornswaggle – 80 :MSPoints: – Marketplace – Trailer
You are one of the last of your kind. The endangered Horned Lizard, sometimes known as the Horned Toad. You are trying to survive by eating ants, but must defend yourself by the only ways you know how. Squirting blood at your enemies and running away. Play this fast paced twin stick top down shooter today.

Pick – 80 :MSPoints: – Marketplace
Why pay 80 MS Points for a song when you could pay 80 MS points for all of them? With Pick, the guitar music rhythm game from Ionic Games, play any song from your Xbox Hard drive or your PC music library! Keep track of your high scores and never be limited to a set playlist of songs again! You Pick It, You Play It! Pick supports most standard guitar controllers.
The Great Paper Adventure – 240 :MSPoints: – Marketplace – Trailer
The Great Paper Adventure is a single-direction scrolling shooter with funny 2D graphics and awesome chiptune music composed by Spintronics. Explore many levels, defeats giant bosses and discover a fantastic and papered world !

Xtremes vs Zombies – 80 :MSPoints: – Marketplace
2012 Apocalypse ended the lives of many on this planet. The feeble survivors assembled wrecks and created Xtremes in their war against the rising zombie hordes. Features two compelling modes Classic and Survival with special powers. Will you lead these amazing Xtremes in this last World War?

Abmastrophy – 80 :MSPoints: – Marketplace
Have you ever wondered . . .

Bamdizzle – 80 :MSPoints: – Marketplace – Trailer
In a world where colored balls constantly fly at you, a paddle is the only answer. Take control of your destiny in this exciting 4 player ball blocking extravaganza. Feast your eyes on the 8 different paddle color options. Feast your ears on the 5 sound effects. And seriously feast your brain on the seemingly limitless game modes you can create with complete control over the game's rules.
Updated Titles
Titles that have received a software update or price change are FortressCraft Chapter 1, Avatar Adventurers Online, Conquest, Brain Jump, Ninja Chop!!, 7 gunfighters, PLATFORMANCE : Castle Pain, Little Kingdom, Nucleon, Techno Kitten Adventure! and Battle For Venga Islands.